You know you've always wanted to sound like a great preacher, but something was missing – The Hammond B3 organ!
Well now you can have it all – "Preach It" is an iphone/android/windows app that comes with 12 preaching organ runs perfect for any message.
But wait! There's more!
Use "Preach It" anywhere you want to add a little extra to what you're saying:
– Talking about your favorite food
– Complimenting your special someone
– Getting out of speeding tickets
The uses are endless!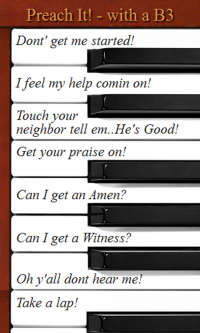 Seriously though – ALL PROFITS ARE DONATED to local outreach, missions and projects:
*** Thanks to the amazing Kyle Beckwith for the organ runs ***
You can find "Preach It" here":
[customcontact form=1]